Effective April 30, 2018 new direct contact leaders must complete Hazardous Weather Training to be considered position trained. And here is one story about why this is so important.
Imagine as a leader with a group of excited Scouts you arrive at a council camp for a camporee on a rainy Friday afternoon. Saturday morning is filled with the sounds of Scouts participating in the scheduled activities, only to have the weather turn blustery with sustained winds of about 30 mph and gusts up to 48 mph. The trees of the heavily forested area start swaying madly back and forth.
As a leader, what would you do? Would you continue with the camporee or evacuate the camp?
This was exactly the situation experienced earlier this year at Pacific Harbors Council's Klondike Derby held at Camp Thunderbird. According to the National Weather Service, sustained winds of about 30 mph with gusts up to 48 mph were recorded near the camp between 7 a.m. and 3 p.m. Saturday. It soon became apparent to leaders that conditions had become unsafe and, around midmorning, with input from the council representative and Camp Thunderbird's ranger, leaders decided to evacuate the camp.
"We made sure that we followed the Boy Scout Guide to Safe Scouting and our hazardous weather training to ensure that all scouts and adults made it home safe," said Barb Dyer, Klondike committee chairwoman. "It was the right decision to cancel Klondike. While it's disappointing that the boys couldn't have the fun-filled weekend that was planned, I'm eternally grateful that safety is first with the BSA."
A good decision it was, as several large trees and branches dropped on or near Scout campsites during the storm. No injuries were reported, but it could have turned out differently. Rebecca Ledford, an adult leader with Troop 4100, shared a photo of her son's tent, which had been impaled by a heavy fallen branch — right where his pillow was.
On Sunday morning the "all clear" was given for scouts and leaders to return to retrieve their belongings and break down their campsites.
This course is available around-the-clock in the BSA Learn Center by logging in to your account on My.Scouting.org
Have Questions, here are a couple of FAQ's
EVERY YOUTH DESERVES A TRAINED LEADER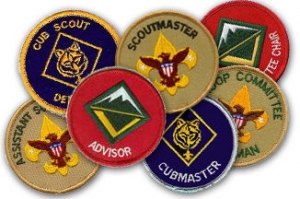 Trained leaders are critical to the success of Scouting. Every young person involved in the Scouting program needs and deserves a leader who understands the aims of the program and knows how to deliver it with enthusiasm and fun. Trained leaders are more effective at delivering the promise of Scouting because they understand their role, responsibilities, and the resources available to them.
WHAT MAKES A TRAINED LEADER?
Adult unit leaders are considered trained, and eligible to wear the official "Trained" emblem, once they have completed the basic training requirements outlined below. Supplemental and advanced training for adults and youth training opportunities are also listed below.
Training is an important part of learning to become an effective leader. The important scouting position you hold will be easier and more effective once you develop the skills necessary to deliver a quality scouting program every Cub Scout, Boy Scout, Sea Scout, and Venturer desires. Every youth member of Scouting deserves a Trained Leader.
PLEASE NOTE:
Applications are reviewed quarterly and must be submitted on the 1st of the Month (March, June, September, & December) to be reviewed later that same month. Scholarships will be awarded based on a portion of the total cost as posted on the registration website (the amount will vary based on event).
As a result of attending Wood Badge training, participants will be able to do the following: View Scouting globally, as a family of interrelated, values-based programs that provide age-appropriate activities for youth. Recognize the contemporary leadership concepts utilized in corporate America and leading government organizations that are relevant to our values-based movement. Apply the skills learned from their participation as members of a successful working team. Revitalize their commitment by sharing in an overall inspirational experience that helps provide Scouting with the leadership it needs to accomplish its mission on an ongoing basis.
Wood Badge is Scouting's premier training course. It's the ultimate leadership training experience designed to meet the leadership needs for all Cub Scout, Scouts BSA, Varsity Scout, and Venturing leaders as well as council and district leaders and Scouting professionals.
Lord Baden-Powell originally designed it so that Scouters could learn, in as practical a way possible, the skills and methods of Scouting. It is first and foremost, learning by doing.
Wood Badge has evolved into the core leadership skills training course for the BSA. The Wood Badge course focuses on strengthening every volunteer's ability to work with and lead groups of youth and adults and is less focused on outdoor skills, which are more effectively addressed in other courses.
The object of the Wood Badge course is to demonstrate, as practically as possible, the aims and methods of Scouting. Upon successful completion of the course the participant receives a certificate and the Wood Badge – two wooden beads worn on a leather thong around the neck. These beads replicate the beads found by Baden-Powell during a campaign in Africa in 1888. They belonged to Dinizulu, an African chieftain. In searching for a suitable recognition for those who completed the first course in 1919, Baden-Powell remembered the beads and decided to present a bead to each participant. At that time, the course was called Wood Badge.
As a result of attending Wood Badge training, participants will be able to do the following:
Examine your own leadership skills by recognizing your own strengths.
Practice and improve your leadership skills.
Communicate effectively and build relationships and teams.
Guide youth and other adults in the development of their leadership skills.
Strengthen your commitment to living and teaching the Scout Oath and Law.
Wood Badge training consists of two parts – a practical phase and an application phase. The practical phase is conducted as a troop in a camping setting. Here leadership skills can be learned and practiced as part of life in a troop. The application phase happens at the conclusion of the practical phase for a period of not more than 18 months. During both phases of the Wood Badge course, five central themes are developed:
 Living the Values – about "being" the values, who you "are" personally, setting the example
Growing – about knowing and growing thyself first – a commitment to continuous improvement and lifelong learning.
Connecting – with other people
Guiding – focusing on enabling and developing others
Empowering – ultimately helping other people to become healthier, wiser, freer, more autonomous, and more likely to "serve and to lead" other people themselves.
COURSE DELIVERY
The practical phase of the Wood Badge course reflects unit meetings and also uses a unit camping activity as its delivery model. During the course the model Scouts BSA troop will serve as the foundation for training purposes. This is done for several reasons.
The Scouts BSA troop simulation provides a good framework in which to practice leadership skills introduced in the course.
Scouts BSA provides a natual bridge between the various programs in Scouting and leaders should understand the importance of transition.
It would be difficult, and most likely confusing, to simultaneously model Cub Scouting, Scouts BSA, and Venturing in one course.
It should be noted that although this foundation is utilized, the course content and leadership principles introduced apply to Scouters in all leadership positions and will provide a common foundation of leadership skills to be used throughout all program areas.
WHO MAY ATTEND WOOD BADGE
Wood Badge is advanced leadership training for adult leaders in all of Boy Scouting's program areas – Cub Scouting, Scouts BSA, and Venturing – as well as council and district leaders. This includes assistant leaders, committee members, and "just parents" in all areas.
All leaders are encouraged to attend Wood Badge; there is no minimum tenure requirement.
Since it is advanced training, though, there are some important requirements. You must…
Be a registered as an adult leader of the Boy Scouts of America and be active in a Cub Scout pack, Scouts BSA troop, Venturing crew, or a district or council position.
Have not previously attended a Wood Badge course.
Have completed basic training for the position you currently hold.
Have completed the outdoor skills training programs appropriate to your Scouting position.
Be capable of functioning safely in an outdoor environment and have a BSA Class 3 physical valid through the beginning of the course.
The Powder Horn course is designed to help the troop, team, or crew by exposing older Scouts, Venturers, and adult leaders to safely conducted outdoor/high-adventure activities of a fun and challenging nature. The course provides an introduction to the resources needed to successfully lead youth through a program of outdoor adventure and is based upon giving participants an exposure to some outdoor/high-adventure activities. The course presenters are expert consultants, from inside and outside of Scouting, in each outdoor high adventure activity. It is for any youth or adult interested in experiencing a unit-level, high-adventure program.