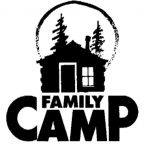 Family Camping in Michigan!

Family camping is a great way for Scouts and their families to get away from everyday life and spend some time together around a campfire, boating, fishing and more! From Dad & Lad's to Mom & Me's and Family Camp, we have lots of events for every member of your family.
Click HERE to download a PDF of our Family Camp
August 17 – 20 & August 18 – 20 | CAMP ROTARY

Fun with Son
REGISTER
Come and join us for a STEM themed Cub overnight camp! In addition to our STEM activities, we will also be featuring our traditional camping activities!
Take part in events such as shooting sports, edible plants, computer programming, and much more!
NEW –  This year, take part in our extended camp program!  Scout(s) and their leader(s) may opt to join us on Thursday evening for a 3-night camp, featuring additional programs and activities that are not available as part of the regular weekend.  Can't make the Thursday program; no problem!  We will still offer our traditional August Fun with Son program from Friday – Sunday!
The August Fun with Son program is a tent camping experience.  Bring your own tent or rent one of ours!
August 11 – 13 | COLE CANOE BASE

Family Camp
REGISTER
Join us for 3 days and 2 nights of fun at the Michigan's very own High Adventure Base. Activities  include: swimming, kayaking, fishing  & rifle  river  tub-ing, crafts, leather projects,  face painting  & tie-dye, movie night, B.B. guns and more!
August 18 – 20 | SILVER TRAILS SCOUT RESERVATION
Webelos Weekend
REGISTER
This event offers your 1st and 2nd year WEBELOS* an opportunity to participate in activities designed especially for them, in a Boy Scout troop like setting. They will be doing FUN activities meant to give a taste of what being a Boy Scout is like. Our goal is to inspire them to stay in Cubs, complete their Arrow of Light, and move into a Boy Scout troop.
For Webelos Leaders, Assistants and parents interested, we will be offering Outdoor Webelos Leader Training, which is required by the Boy Scouts of America for your Den to go on Den Campouts without the Pack.

September 1 – 3 | ROTA-KIWAN SCOUT RESERVATION
Family Camp (Labor Day weekend)
REGISTER
Fun filled time at Rota-Kiwan Scout Reservation doing swimming, kayaking, B.B. guns, archery, and many more great things. Don't forget that awesome campfire!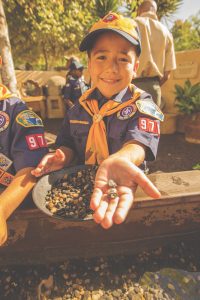 October 7 | D-BAR-A SCOUT RANCH
New Scout Family Fun Day
**more information coming soon!
October 14 | COLE CANOE BASE
Haunted Weekend
REGISTER
Looking for a fun filled family friendly Halloween weekend? Come on out! Appropriate for all ages. It will be Haunting good time!
October 13 – 14 & October 14 – 15 | SILVER TRAILS SCOUT RESERVATION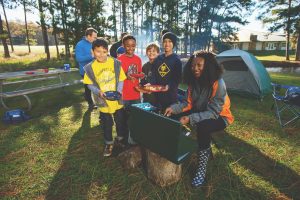 Mom & Me
REGISTER
Get lost in the safari overnight camp out at Silver Trails Scout Reservation! After arriving and checking in at the Cub Scout Camp, Scouts and their Moms will set up their tents and attend a camp fire at 8pm. In the morning, Scouts will enjoy games, crafts, shooting sports and more!
*This event is for Scouts and their parent/guardian only. No siblings please.
October 14 | D-BAR-A SCOUT RANCH
Haunted Forest
REGISTER
Scouting families and the public of all ages are invited to attend the annual Haunted Forest and Family Fun Zone at D-bar-A Scout Ranch on Saturday October 14, 2017.
All are welcome to enjoy the evening; consisting of the Family Fun Zone full of games and prizes, Magic Show, Bounce House, Tractor Hay Rides, Concessions, Friendly Trail Walk and the popular ¾ mile Haunted Forest Trail.
October 27 – 29 | D-BAR-A SCOUT RANCH
Family Halloween Cub Camp "All Y'all"
**more information coming soon!
December 2 & 3 | CAMP ROTARY
Cub Family Winter Day Camp
**more information coming soon!
Bring your family to Reneker Family Camp!
In partnership with the Pathway to Adventure Council, our Michigan Scouting families can now enjoy a family camping experience at Camp Reneker located at; Owasippe Scout Reservation (9900 Russell Rd., Twin Lake, MI 49457)
Enjoy Michigan camping as you experience activities…family style!
Reneker Family Camp is a special place where families of Scouts and Leaders can enjoy activities such as canoeing, hiking, archery, fishing, swimming, horseback riding, arts and crafts, and campfires. Reneker creates a unique oasis for adults and children alike. Parents can choose to participate in activities or just relax and read a good book. Kids learn new skills, share new experiences with their  families, make new friends and develop an appreciation for the  outdoors. All week there is something to do, offering planned program for every and age.
Unplug your family and sign up to become part of the Camp Reneker experience!
Camp Reneker has extended special pricing for families with Scouts attending any Michigan Crossroads Council summer resident camp! Discover more at http://www.owasippeadventure.com/blackhawk-1-1/