Does this describe you or someone you know:
You love the outdoors
You love hiking and biking and sailing
Your friends say you're great with kids
If so, then we've got the perfect place at a Boy Scout or Cub Scout Resident Camp this summer. Over half a million college & high school students will find their way from their campus to summer camp to fill camp positions across the United States.
Imagine a job where almost anything is possible:

Live, play, and work in the great outdoors.
Go on active adventures.
Experience the awesome diversity of our MCC camps.
Live, play, and work in the great outdoors.
Make new friends from all over — even from other countries.
Bank more money than you think — with few expenses.
Become a child's hero.
Learn leadership skills.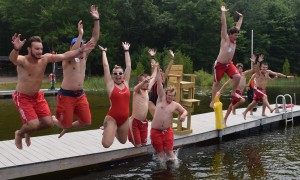 Summer Camp jobs offer invaluable skill-building, leadership, training, and enrichment opportunities that
can't be found anywhere else! Regardless of your college major, camp experiences allow you to learn and develop skills that will enhance your job marketability. The benefits go far beyond a paycheck, too. Business executives often note that experience as a camp counselor translates into excellent management and personnel skills. College credit can sometimes be obtained from working at camp. Check with your college adviser to see if you qualify.
For more information on working at our camps this summer, contact Outdoor Adventures at Camp.Michigan@Scouting.org or download the summer camp staff application from the Outdoor Adventures Forms & Resources page (Summer Camp Employment section).  Interviews are now being scheduled, don't miss out on the opportunity of a lifetime!