The basic idea of a corporate identity is instant recognition through certain colors, images, and words used to harmonize the relationship of the organization and its constituents. The National Council sets forth guidelines that all council publications should strive to follow, those guidlines can be found at http://scoutingwire.org/bsa-brand-center/brand-identity/
Additonally, in order maintain a minimum set of standards, the Michigan Crossroads Council requires the following:
1. All printed or digital media are required to be reviewed for approval by the Marketing Department. This includes, but is not limited to:
Event Flyers, Logos, and Graphics
Shirts, Hats, and Patches
Letterhead, Envelopes, and other Identity Collateral
Business Cards
Social Media Graphics
Banners and Signs
PLEASE NOTE: If an item has not been approved by the Marketing Department, purchase orders for printing, patches, or other similar items will NOT be approved or paid by Accounts Payable. If they are printed without authorization, the person requesting will be responsible for payment.
2. Items created are of a clean, well-designed nature, and represent the council and Scouting in a professional manner appropriate to the audience and medium being used.
3. Include the appropriate Michigan Crossroads Council corporate logo, examples below:
A. Appropriate option for ALL items, the Council Corporate Logo


B. Appropriate for programs operated by the Outdoor Adventures Division: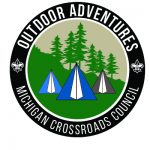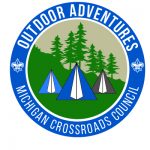 The following are special graphics are NOT appropriate for use to use in place of our logo to represent our Council: