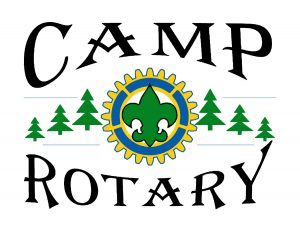 Camp Rotary
3201 S Clare Avenue, Clare MI 48617
Phone: 989-386-7943 | Fax: 989-386-3193
Camp Director – Andrew Wright
Outdoor Education Program Specialist- Greg Zdan
Ranger – Vacant
Properties Chair – Tom Mapes
Located in the central part of Michigan's Lower Peninsula, Camp Rotary has one of our country's clearest spring-fed lakes, scenic rolling hills and fragrant pine trees, making it one of the most beautiful camps in the country.  With over 1,100 acres and abundant natural resources, Camp Rotary is able to offer a wide variety of programs and welcomes Scout Troops, School, Church, Civic, Fraternal organizations and corporate groups on a year-round basis.
Camp Rotary Cabins offer a wide variety of innovative programs each summer and welcomes Scout Troops from both in and out-of-state each summer.  Camp Rotary boasts perhaps the most beautiful waterfront of any Scout camp and has specialty programs for older Scouts and first year campers alike.  Always one of the most popular areas in camp is the dining hall where tasty, well-balanced meals are served family style.  Premiere Shooting Sports Ranges, COPE, Climbing and Rappelling, our new high-tech M.A.D.E. area, a family carnival on Friday night, and modern shower houses make Camp Rotary an ideal camp for any Unit!
Summer Camp Opportunities
Boy Scout Summer Camp at Rotary 
Year-Round Opportunities
Camp Rotary C.O.P.E. Program
Outdoor Education
Camp Rotary Cabins
Upcoming Events at Rotary