Build your adventure at one of our Cub Scout Camps! Cub Scout Summer Camps are an active outdoor program. These overnight and day camp programs offer age-appropriate program opportunities where a Scout can try his hand at a variety of activities, such as; swimming, fishing, bb-guns, archery, field games, campfires. flag ceremonies, songs, and ecology/conservation elements.
Summer Time Adventure Camp
Summer camp is one of the best parts about being a kid! Playing outside, learning life-long skills, and building new friendships are a blast. Every day is an adventure full of fun and learning at Rota-Kiwan Scout Reservation in Kalamazoo where boys and girls ages 6 to 12 will have the experience of a lifetime! Come for one week or up to five weeks and enjoy these activities and many more!
Cub Scout Day Camps
Day camp lasts for one day to five days. It's for Tiger Cubs, Cub Scouts, and Webelos Scouts. Day camps are held during the day or early evening. Campers do not stay overnight.
Do you qualify for an IRS Child Care Credit by sending your Cub Scout to Day Camp? – Click here to find out.
SOUTHEAST MICHIGAN WEST & NORTHERN MICHIGAN
Why is it important for our Cub Scouts to go to camp?
The average American boy or girls spends as few as 30 minutes each day in unstructured outdoor play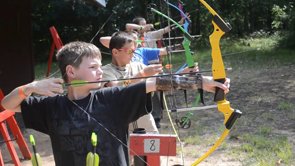 and more than seven hours each day in front of an electronic screen. In modern America, the opportunity for kids to get outdoors and experience nature is becoming more and more important. There are many benefits to children that spend time outdoors experiencing nature…
Outdoor play increases fitness levels and build active, healthy bodies.
Exposure to environment-based education significantly increases student performance on tests of their critical thinking skills and improves scores on standardized tests.
Children's stress levels fall within minutes of seeing green spaces and has been shown to reduce ADHD symptoms.
Interested in finding out more about Cub Camp?
Presenters will be available to come speak with your Cub Pack about camp in early December. They will help guide you through getting registered, answer any questions, and show our Cub Scouts and families how much fun camp is! Please contact Dianna Marsh.
HEY YOU! YES…YOU!! We need your help!
Are you passionate about Cub Scout camping? Do you want to help bring more Michigan Cub Scouts to camp? Then we really need your help! We are building our Cub Camp Promotions Team and want represetnatives in all parts of Michigan, willing to go out and talk with Cub Scout Packs and their families. We'll provide you the tools you need, all you need is your enthusiasm! Please contact Dianna Marsh at for more information.
Every Scout should have the chance to come to camp.
Learn more about our Campership Program to help make camp more affordable for you family. We welcome kids of all abilities and will work closely with you to make sure your child has a great time.