Friday, May 11, 2018 – Competitive Shoot
Bald Mountain Shooting Range
2500 Kern Road
Lake Orion, MI 48360
11:00 AM Lunch and Registration
1:00 PM Competitive Shoot – Shotgun start
4:00 PM Reception and awards ceremony – On Site
SOLD OUT
Please contact  Jaime Bochenek at jaime.bochenek@scouting.org to be added to the waitlist.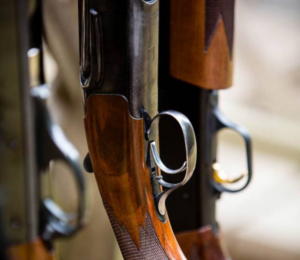 The Great Lakes Field Service Council invites you to attend the 2018 Boy Scouts of America Sporting Clays Classic. Proceeds from the Boy Scout Sporting Clays Classic are used to benefit youth development through Scouting programs that serve Wayne, Oakland, and Macomb Counties. This year's invitational will take place on Friday, May 11, 2018 at Bald Mountain Shooting Range, a premier sporting club located in Lake Orion, MI.
The Sporting Clays Classic helps fund the Great Lakes Field Service Council, which ranks as one of the largest Councils in the Boy Scouts of America. Our ongoing mission is to encourage the positive development of our young people through Scouting programs that help instill values in them, and prepare them to make ethical choices that allow them to achieve their full potential
throughout their lifetime.
Whether you are a life-long firearms enthusiast or a newcomer to the shooting sports, this outing will provide you and your guests a safe and thrilling day in a beautiful and relaxing setting. This is a competitive, 100-round event designed to be fun and entertaining for all. Scouring will be on the Lewis Class system. Bring a 12-gauge shotgun and plan for a great day! (12-gauge ammunition will be provided)
We appreciate your effort to participate at any level and look forward to seeing you on May 11th for this great event. Thank you for your support!
For more information, contact Jaime Bochenek at 313.361.1291 or at jaime.bochenek@scouting.org.
Team and Sponsorship Opportunities

RECEPTION SPONSOR – $5,000
Join us for a drink! VIP Reception Sponsor receives:
One team of four complete with ammunition and participant gifts for all shooters.
Sponsor banner at event and company name and logo in program.
Attendance at lunch and awards reception.
Carts provided for all shooters
LUNCHEON SPONSOR – $4,000
Enjoy some fellowship and camaraderie! Luncheon and Reception Sponsor receives:
One team of four complete with ammunition and participant gifts for all shooters.
Sponsor banner at event and company name and logo in program.
Attendance at lunch and awards reception.
Carts provided for all shooters
AMMO SPONSOR – $3,000
Get ready to take aim! Ammo Sponsor receives:
One team of four complete with ammunition and participant gifts for all shooters.
Sponsor banner at event and company name and logo in program.
Attendance at lunch and awards reception.
Carts provided for all shooters
CART SPONSOR – $2,500
Cart Sponsor receives:
One team of four complete with ammunition and participant gifts for all shooters.
Company name and logo in program and on all carts
Attendance at lunch and awards reception.
Carts provided for all shooters
COMPETITION SPONSOR – $2,000
Competition Sponsor receives:
One team of four complete with ammunition and participant gifts for all shooters.
Company name and logo in program.
Attendance at lunch and awards reception.
Carts provided for all shooters
INDIVIDUAL TEAM – $1,500
Individual Team receives:
One team of four complete with ammunition and participant gifts for all shooters.
Attendance at lunch and awards reception.
Carts provided for all shooters
STATION SPONSOR – $250
Stations Sponsor receives:
Company name and logo on dedicated signage at one of the 20 stations
Opportunity to provide prize for use at the event