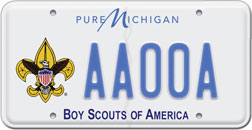 The Boy Scouts of America plate became one of Michigan's newest special cause fundraising plates in January 2012. Featuring the official Boy Scouts of America fleur-de-lis logo, the plate supports the Boy Scouts of America councils in Michigan.
University and special cause fundraising plates can only be used on non-commercial passenger cars, pickup trucks, vans and motor homes. Motorcycles, trailers and vehicles used commercially are not eligible for these plates.
This collector license plate is available for $35 and allows you to proudly display your belief in the positive impact Scouting makes in the lives of our youth.
In addition to showing your support wherever your travels take you, you also will be making a financial investment in our Scouts because $25 from each license plate sold goes directly back to programs and services that will prepare all of our youth for success.
You can order specialty license plates by mail, fax or at any Secretary of State office. The plate will be mailed to you within 14 business days.
To purchase a plate by mail or fax, complete and print the Boy Scouts of America License Plate Order Form.