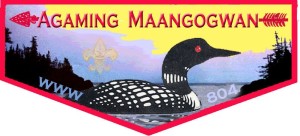 New News!
GO TO NOAC – 2018
Next summer's National Order of the Arrow Conference, NOAC, will be held at Indiana University from July 30th – August 4th in Bloomington, Indiana. This national event is second in attendance – only to the Jamboree. Lodge plans are already being made. The lodge is contributing $100 to each participant and national staff members who attend. A registration place can be reserved for an initial deposit of $100.00. For more information about NOAC 2018 (payment plan, allocation system, etc.) see the flyer HERE or register HERE.
DUES 2018
Lodge dues for 2018 are now being accepted. Remember – 2017 Ordeal Candidate / Member dues are pro-rated and included in the Ordeal Candidate Induction fee. All members, including those inducted this year at Rotary or Silver Trails must pay in 2018. The date on your mailing label denotes your latest dues payment. To pay your 2018 dues, go HERE.
GOLD PLAN IS BACK!
The GOLD Yearly Activity Registration PLAN option allows you to pay for ALL 5 events as a package and SAVES you $65 off regular prices and $15 off the early-bird prices. The Gold Activity Plan has NO refunds, is NOT transferable nor includes 2018 dues. The Gold Activity Plan does NOT include the state-wide May 4 – 6 Section Conclave. To register for the GOLD PLAN click HERE.
THE WINTER FELLOWSHIP OF THE RINGS WEEKEND AND BANQUET 
Join your fellow arrowmen: join us to sled at Snow Snake, join us to learn about the Order, join us to camp at Rot ary, join us at the annual banquet, join us in our quest for "the ring," join us in fellowship. The Winter Fellowship and Banquet takes places on January 26 – 28th at Camp Rotary. To join us and register click HERE.
NLS IS FOR YOU!
The National Leadership Seminar (NLS) is a weekend training program focusing on leadership development. Run by the Region Chiefs and their advisers, NLS provides an in-depth look at leadership skills and techniques and how these skills can be applied to the OA and in other aspects of your life. The next available National Leadership Summit is scheduled
for February 9 – 11th in Ohio. To register, contact to Mr. Tom Stoppa and pay the initial $50 non-refundable fee. (The lodge picks up the other $175.00 fee. Plus you can receive $25 back once you complete you r goals and submit the section scholarship form.
Go to NLS this February!! It's a great dea!
To register, see the link at: https://central.oa-bsa.org/region-programs/training/national-leadership-seminar/
PATCH SUBSCRIPTION 2018 IS READY!!
The 2018 Patch Subscription is ready! Plans for the NEW subscription series include the following: Triple Set / National OA Conference, Section Conclave Themed Flap, two Summer Camp Commemoratives, & Chapter Event patches. Patch Subscription orders are limited to the first 75 arrowmen on a first-come, first-serve basis during the Lodge's January Winter Fellowship at Camp Rotary. For questions, please call Kirk Sheren at 517-321-6230.
COMMUNICATE WITH US!!
Remember to sign up for the texting plan. To do so text @agami to 81010 and you will receive updates especially before events. Follow us on FACEBOOK @ Agaming Maangogwan Lodge 804 and "Like it" to receive pictures from the events. For more information, check out the lodge website at: http://agaming804.org/
ADDITIONAL LINKS:
Please visit our website for more information such as Officer Contacts, Forms, Calendars, etc: http://agaming804.org/
Read the Loons Call Newsletter here.
RESOURCE / LINKS:
For a listing of lodge and chapter contacts and other resources, see the links:
• Unit Visitation Manual
• Youth Nomination Form
• Adult Nomination Form
• Ordeal Candidate Letter
• Scoutmaster Letter with contact information
• OA Unit Election Form
Lodge Leadership
Lodge Chief — Michael P. – 517-643-1786
Executive VC — Liam B. – 989-289-8555
Program VC — Aiden B. – 989-600-8580
Service VC — Gavin B. – 810-728-4418
Administrative VC — Tyler B. – 517-881-9290
Communication VC — Jonathan R. – 989-529-2289
Lodge Adviser — Tom Stoppa – 989-657-4427
Associate Adviser — Brian Clegg – 248-255-7991
Socially Connect with Agaming Maangogwan Lodge