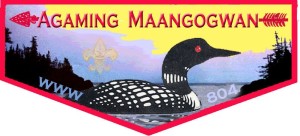 New News!
Unit Visitations & Elections
It's Boy Scout visitation and election season. Contact your chapter OA leadership to set-up your visitation and election today!
For contact information see the resource link at the bottom.
DUES 2017 Raised to $13
Lodge dues for 2017 are now being accepted. Remember – 2016 Ordeal Candidate / Member dues are pro-rated and included in the Ordeal Candidate Induction fee. All members, including those inducted this year at Rotary or Silver Trails must pay in 2017. The date on your mailing label denotes your latest dues payment. To pay your 2017 dues, click here.
The BIG CAMPOREE
Camp with arrowmen and troops from all over the Water and Woods Council at the June BIG CAMPOREE! Scouts, Scouters, Troops, and OA members are invited to this event at Cole Canoe Base the weekend of June 9 – 11th. All participants enjoy evening crackerbarrells, give back during the Saturday morning service projects, and experience the "COLE ADVENTURE" during the afternoon program activities. For more information and to register, see the LINK HERE.
ADDITIONAL LINKS:
Please visit our website for more information such as Officer Contacts, Forms, Calendars, etc: http://agaming804.org/
Read the Loons Call Newsletter here.
RESOURCE / LINKS:
For a listing of lodge and chapter contacts and other resources, see the links:
• Unit Visitation Manual
• Youth Nomination Form
• Adult Nomination Form
• Ordeal Candidate Letter
• Scoutmaster Letter with contact information
• OA Unit Election Form
Lodge Leadership
Socially Connect with Agaming Maangogwan Lodge