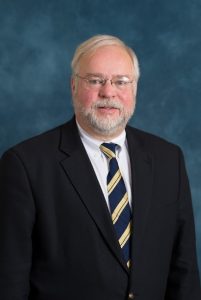 Dr. Tim Johnson, courtesy photo
ANN ARBOR – Dr. Tim Johnson said his involvement in Boy Scouting as a youth, prepared him to take on leadership roles as an adult, most recently as the chairman of Obstetrics and Gynecology at the University of Michigan Medical School.
Johnson will now use those leadership skills in his new role as President of the Southern Shores Field Service, Boy Scouts of America.  He was elected during an annual meeting Monday of the Southern Shores board of directors.
"My hope is that I can be a servant leader to the Council and bring new ideas and innovations," Johnson said.  "Scouting has changed pretty slowly and it's pretty clear that everything in 2018 is changing quickly.  Scouting has to embrace change and be more nimble.
"We are engaging in a new day in Scouting."
After dealing with issues, such as changes to the membership policy, Johnson said he thinks there are some really interesting things going on in Scouting.
"It's a new day for Scouting with opening it up to girls," he said.  "It's all about convincing people that Scouting in 2018 is not the Scouting they remember from 1950."
Johnson said he has a major commitment to ensuring inclusion and diversity and making sure people understand that there are diverse needs that must be met, particularly with minority, and Middle Eastern and other immigrant populations that are growing and striving to succeed in America.
"We have opportunities to reach out to a changing population in Michigan," Johnson said.  "The Southern Shores service area is really interesting in terms the demographics and the mix of urban and rural.  That diversity is really exciting to me.
"We need to get everyone the pulling oars and working together."
Melissa Stricherz, Scout Executive for Southern Shores, said she is grateful to have an individual with Johnson's tremendous level of dedication and passion for Scouting leading her team.
"Tim brings a wealth of knowledge and expertise in so many different areas and I am looking forward to working with him to grow Scouting in our service area and beyond," Stricherz said.  "He exemplifies the best of Scouting."
As a youth, Johnson moved around a lot because of his father's career in the military.  He earned his Eagle Scout rank in 1963 while living in Virginia and moved with his family shortly after that to Stockholm, Sweden, where he helped to establish a Boy Scout troop at the U.S. Embassy.
Johnson returned to the states and received his education and training at the University of Michigan, the University of Virginia, and Johns Hopkins University.  He also received an ROTC commission and served four years in the United States Air Force.
In 2016, Johnson received the Distinguished Service Award from the Rotary Club of Ann Arbor. He is an elected member of the National Academy of Medicine (formerly Institute of Medicine) of the National Academies of Science. In addition to clinical care, teaching and research, Johnson describes leadership training and developing leaders as one of the four major threads in his life.