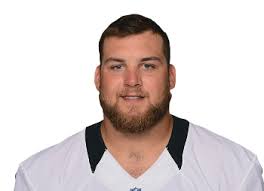 Tim Lelito
PORT HURON – Tim Lelito, a professional football player with the Tennessee Titans, will headline a luncheon to support Boy Scouts and volunteers served by the Water and Woods Field Service Council which provides programs and services in a 27-county area covering northern and eastern Michigan.
The "Support A Scout" luncheon will be on June 21 beginning at 11:40 a.m. at the Bean Dock-Seaway Terminal, 2236 Military Street in Port Huron.
Lelito is a former Boy Scout who was born and raised in St. Clair.  He graduated from St. Clair High School and went on to play football at Grand Valley State University where he earned a bachelor's degree in physical education with an emphasis on Sports Management and Leadership.  In 2013 he signed on as a free agent with the New Orleans Saints.  In March he signed with the Titans and expects to see plenty of playing time this season.
While playing professional football is a dream come true for Lelito, he also dedicates a great deal of his time to doing charity work.
"His big heart for charity began in the small town where he grew up and the community that helped raise him," said sportswriter Christy Lynch Chauvin.  "However, his grandmother had the biggest influence on him and instilled in him a desire to give back through her example.  His grandfather continues the tradition of giving back now that she is gone."
Chauvin said Lelito likes to focus his efforts on helping children especially those that are underprivileged.
"He wants to be a part of helping children learn and grow especially back home in Michigan," Chauvin said.
Of the 18,000 Scouts served by Water and Woods, about 25 percent are part of Scoutreach, a program offered through MCC which provides Scouting to youth in low income urban and rural areas of Michigan.  Scoutreach was created to ensure that all young people have the opportunity to join Scouting regardless of their socioeconomic backgrounds.
"Tim is a tremendous role model for the youth we serve because he leads by example through his commitment to creating successful outcomes for them," said Paul Schwartz, Scout Executive for Water and Woods.  "We are very grateful for his partnership with our organization."
To register or for additional information about the luncheon, contact Joey Koehn at joseph.koehn@scouting.org or (810) 216-7002.