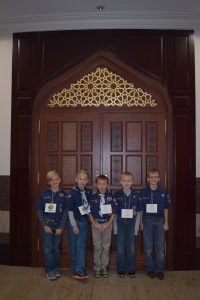 "Unity of understanding helps break barriers caused by ignorance. Ignorance creates fear. Fear harbors hatred. Hatred brings disunity. Our faith traditions share a common core of values that bring us together. Walk with God was a great opportunity to promote unity!"
This is the 3rd joint Walk With God Program sponsored by Great Lakes Field Service Council of BSA and Girl Scouts of Southeastern Michigan. There were approximately 300 in attendance and all registration was again flawlessly managed by Boy Scout Volunteer Midge Savage.
The event was held at the Islamic Center of America in Dearborn with the primary Liaison being our Girl Scout Leader Fatima Dahoui! Girl Scout Troop 48050 and BSA Troops 1139 and 313 lead by brother Mohamad Awada, (president) were the community troop hostesses and hosts!
Kassel Ali and the staff at the Islamic Center of America couldn't have been more helpful, and were a pleasure to work with! The entire community was so proud to be hosting the scouts!
Presentations focused on the Islamic, Jewish and Christian traditions with speakers including: Imam Kazrooni, Islamic Center of America, Pastor David Sheridan of Warrendale Community Church, Dr. Al Tarlo of the Archdiocese of Detroit, Ms. Nora Mullin (a new GS leader) of Congregation Shaarey Zedek in Southfield and Imam Yaseen of the Islamic Center of America.
Highlights of the day included:
-A gracious welcome from Imam Kazrooni who answered a 10 year old's question regarding what she should say to someone when people ask her why she wears a hijab? His response was, "It is how you protect you beauty as symbolized in your hair and you can also look at them in the eyes and ask Why Not?
-Many of the Islamic Scouts really enjoyed visiting Warrendale Community Church and found Pastor Sheridan extremely engaging!
-A question filled presentation on the Jewish tradition with a discussion of Purim.
-Scouts really admired the Islamic Prayer Room
-A profound closing Unity Prayer
-Several participants chose to stay after the official close of the program to participate with Imam Yaseen in the Islamic prayers that were translated by a brother for the understanding and benefit of everyone.
Generous donations were made by Haider Koussan of Greenlands Market at Beech and Ford Roads and Samar of Tim Hortons at Oak and Woodward Ave.
New this year was an emblem display provided by Vern Newman of the Boy Scouts with a presentation on religious awards by Midge Savage.
A special thank you to the Young Adult Leaders, moms and the older Girl Scouts from troop 48050 who ran the kitchen, preparing and serving all the meals, everything was delicious! Thank you to the GS and BS committee members and volunteers: Robbie Price, Marla Zabarra, Peter Lee, Virginia Reglish, Mary Elias, Mark Elias, Ron Pelley, Faith Strickland, Midge Savage, Carol McConnell, Fatima Dahoui, Vern Newman, and Fran Clancy. Thanks to Victor Marsh, BSA Staff for his presence.