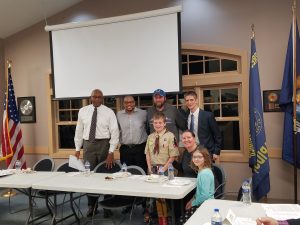 Mason Schlafer, poses in his Scout unifrom, with from left to right, Wayman Britt, President Ford Field Service Council Board President; Lee Moyer, Charman of the PFFSC Associate Board; father, Matt Sclafer; John Gower, PFFSC Assistant Scout Executive, mom, Michele, and sister, Mya. 
Mason Schlafer, a 10-year-old Cub Scout from Norton Shores, became a media star after breaking a 13-state regional Popcorn sales record on October 22.
But, he didn't do it for himself, he did it to help others.
His goal-busting efforts began on October 3 when he broke last year's state Popcorn sales record, which was  $14,450, by $25.  He then sold more than $22,000 worth of Popcorn, toppling the regional record which was $18,730.
"I just want to help out my Pack," said Mason.
Mason is a member of Pack 4055.  Andrea Fearnley, his Pack leader, said before he transferred into her Pack he asked her about their Pinewood Derby, specifically about the trophies which Fearnley had made using plastic champagne glasses spray-painted a metallic gold.
"Mason said he'd prefer real trophies," Fearnley said.  "I remember thinking, 'So would I, but we're working with a very limited budget!"
Mason wanted to sell enough Popcorn to get his Pack better trophies, not just for one year, but for several years.  He set the goal at $10,000, but quickly made the decision to surpass it for the trophies and as a way to set the bar for his fellow Scouts.
Fearnley, who is also a Unit Serving Executive with the Pere Marquette District of the Michigan Crossroads Council, said Mason earned enough to pay for 10 years-worth of trophies for the Pack and to cover the cost of Resident Camp for him and his father.  Each year Boy Scouts throughout Michigan sell Popcorn to fund their own adventures in Scouting and earn prizes for achieving various sales levels.
"He wanted to make sure that he had enough trophies for them for a few years," said Matt Schlafer, Mason's father.
But, even before this year's record-setting sales, Mason was thinking about others.  Last year he earned enough to get himself a 7-inch tablet and this year he wanted to earn enough to get a 9-inch tablet for his younger sister.
"What 10-year-old boy does that," Fearnley said.