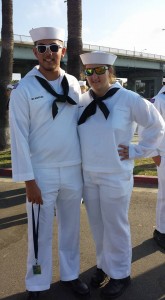 Forty teams from ten countries including AUS (Australia), BRA (Brazil), DEU (Germany), FIN (Finland), IRL (Ireland), NOR (Norway), NZL (New Zealand), POL (Poland), USA (United States) and ZSF (South Africa) competed for the 2016 Koch Cup in Long Beach California.
On Monday August 1st, the Opening Ceremonies occupied most of the morning. Teams familiarized themselves with the sailing area and practiced in the afternoon.
Qualification races were conducted all day on Tuesday. The forty teams were divided into two groups of twenty. Each group raced to determine their ten top teams. Those twenty teams went on to compete for the Koch Cup on Wednesday and Thursday. The remaining twenty teams competed for the Kiwi Cup.
The Koch Cup results are:
First NZL 15 points
Second USA (31) 32 points
Third FIN 34 points
Last 173 points
The Kiwi Cup results are:
First USA (11) 29 points
Second USA (19) 41 points
Third POL 56 points
Fourth USA (10) 70 points
Last 206 points
Here is how our Central Region Teams finished:
Koch Cup
18th place: John and Rory Neenan Ship 2015, Chicago IL
21st place…. Nick Maude and Zak Hamil Ship 41, Bay Village OH
Kiwi Cup
4th place Brian Foley and Abigail Hall Ship 1148, Dearborn MI
10th place Olivia Knupp and Colin Campbell Ship 109, Port Huron MI
14th Place Rory Loeding and Tess DeWilde-Kohler Ship 320, Lexington MI
20th place Gloria Cabadas and Jillian Lovett Ship 1148, Dearborn MI
Please join me in congratulating our enthusiastic young sailors!
Thank you to Jay Montgomery for submitting the information!