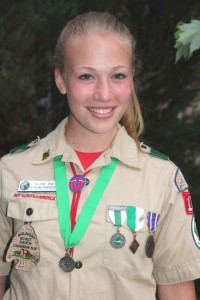 Claire Knie received her Silver Award, Venturing's highest achievement, in the spring of 2014. This is an achievement she never would have imagined obtaining five years prior. Well, not until she realized she needed to change her life around for the better.
Claire was a typical pre-teen in middle school – self-conscious of how people perceived her and worried about how she looked. The feeling of insecurity followed Claire even after joining the Venturing program. "I always cared about what people thought of me, and it started to lead me down a very destructive path," said Claire. This path took Claire into a state of severe depression. She started to do things she knew she would later regret, and she turned to a group of people she would later find out weren't the friends they proclaimed themselves to be. "I started becoming a person I didn't want to be. I was getting involved in things that were very dangerous, not only for myself, but for the people around me."
The summer of Clair's sophomore year, things started to take a turn in the right direction. She decided to attend the 2013 National Jamboree. This was also the first that year Venturers, which includes young girls, were allowed to participate in the National Jamboree, and for many young girls like Claire, it improved their lives. "I met really great people. They helped me see the person I was becoming, really wasn't who I really am. The jamboree gave me the option of being whoever I wanted to be and something I never had before." Being in a new environment and around new people allowed Claire to focus on what was the most important thing to her – becoming a better person. No one was there to judge her or spread silly rumors about her, and no one had heard about her past. Essentially, she was able to start over.
The person she made the decision to become stayed with her when she arrived home. One of Claire's inspirations to changing her life is are the friends she made at the National Jamboree. "The friends I made, we still text to this day and they help me stay on the right path." Claire's grades even improved in school. She went from a C and D student to receiving all A's, and she's graduating with honors! She doesn't hang out with the same crowd, and she's happy she made the choice to change. "Scouting gave me the opportunity to become a better person and in a sense, just to start over." Claire admits the road to finding herself was not the easiest. "It's been a crazy journey, a lonely one at times, but it paid off in the end."
Claire's has an important message for anyone interested in Scouting: "It is the best experience you could possibly give a child. The people you meet become life-long friends. Scouting is an amazing opportunity, and the experiences I've had and the people I've met – I wouldn't change it for the world."